Dec
19
Sun
Luminary Labyrinth Walk

@ Unity Village
Dec 19 @ 5:00 pm – 6:00 pm
Let your creative light SHINE!
Join local friends from the Unity Arts Ministry creative community for an evening Labyrinth walk at Unity Village. Together we will set intention to let our creative lights shine through the winter months. Then our group will engage in a meditative walk through the Labyrinth.
Fellowship and reflections to follow our sacred walk. Pre-Registration required.
Jan
8
Sat
Vision Board Party 2022

@ Unity Arts Ministry Studio
Jan 8 @ 3:00 pm – 5:00 pm
Our popular Vision Board Party is back! Join us in the NEW Unity Arts Ministry studio at Unity Village OR online from the comfort of your own home.
Rev. Jen Hutchins, founder of Unity Arts Ministry, will lead you through everything you need to know so that you can create your own inspirational Vision Board. Design a visual representation of your goals, personal dreams and highest intentions. This simple creative project is based on powerful spiritual laws: "What we hold in our minds and our hearts, we experience in our lives."
Program includes: inspirational lesson, project instruction, centering meditation & group share.
Date: Saturday January 8th, 2022
Time: 3-5 pm CT
Location: Unity Arts Ministry Studio, 1901 NW Blue Pkwy, 100 Bldg 4th Floor, Unity Village, MO 64065
Online Option: Zoom Platform
Ticket Fee: $20-$25*
*Register online via Eventbrite ticketing link OR send an email to info@unityartsministry.org. You may pay via check, cash or PayPal. Scholarship assistance available for free or reduced rate tickets. No one turned away for lack of funds. Email to request.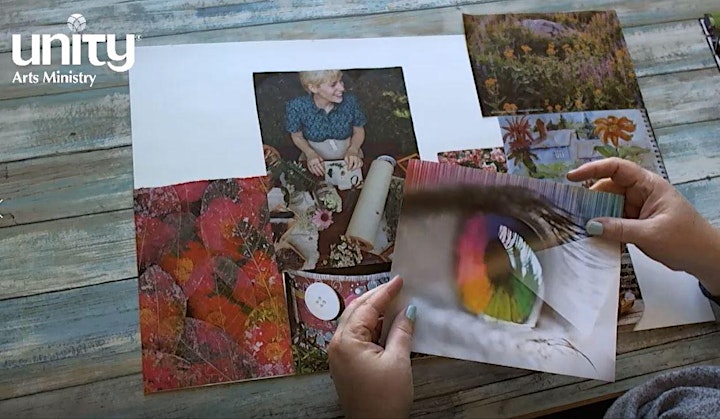 Suggested Supplies:
Poster Board
Old Magazines or Photographs
Scissors
Adhesive (glue sticks, or Mod Podge work well)
Additional Details:
Parking: Unity Arts Ministry studio is located on the 4th Floor of the 100 (Admin) Building at Unity Village. Park in the parking lot labeled "Administration," located just South of the #100 on the map below. Enter through central doorway. Follow signs to the elevator. Take elevator to 4th Floor.
Unity Security: Contact the Security office if you have any difficulties with building entrance or locating our studio. 816-347-5535.
Safety & Precautions: Unity Arts Ministry follows the Jackson County health regulations. Masks may be required. Seating is limited to encourage social distancing.
ZOOM: Event held live in studio with online Zoom video conferencing options available. Zoom link will be sent via email 24 hrs prior to event start. In the event that you do not receive this email, check your Spam folder first, then email info@unityartsministry.org.
Cancelation Policy: In the event that Unity Arts Ministry must cancel the live, in studio program, the Vision Board Party will be held virtually. All tickets will automatically transfer to Zoom participation option. Participants will receive email notification 48 hrs prior to event. A $5 rebate will be credited to your account if you paid the $25 ticket price.
If you need to cancel your ticket, you may do so up to 24 hours prior to the event start. You will receive a refund equal to your ticket payment minus $5 registration fee to help offset our costs. Thank you for your understanding.
Rev. Jeniffer Hutchins, founder of Unity Arts Ministry, is passionate about expressive art education and Unity ministry. She is an ordained Unity minister, art educator, professional artist, published author, and certified Reiki Master. Her mission is to inspire self-reflection and personal transformation through spiritual principles and the healing power of art.
Through Unity Arts Ministry, Rev. Jeniffer facilitates creative workshops, classes & retreat experiences and offers guest speaking services. She has presented at spiritual centers across the country; is the host of the series "The Art of You;" and has been featured in magazine, radio and video podcast interviews.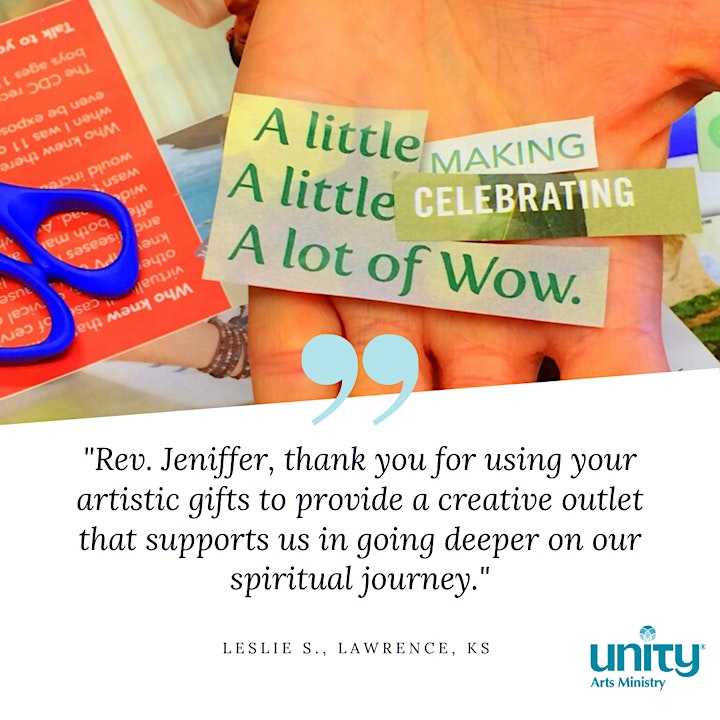 Feb
12
Sat
Art A Thon 2022

@ Online / Unity Arts Ministry
Feb 12 @ 6:00 am – 6:00 pm
Get ready for our 2022 Art-a-Thon FUNdraiser! An art making extravaganza of creativity and community. Professional and emerging artists from across the globe will show off their endurance and artistic talents while raising funds to support Unity Arts Ministry. Visual Artists, Writers, Musicians and Performance Artists unite for this 12 hour virtual event.
Saturday, February 12, 2022 from 6:00 am – 6:00 pm (CT)  
Participating artists dedicate themselves to 4, 8 or 12 hours of art making
Artist Zoom Room provided for connection & sharing
FB Live check-ins from the Art-a-Thon community Zoom room
Featured artist demos presented on FB throughout the day
ART FOR A CAUSE: Unity Arts Ministry (UAM) is a non-profit 501 (c)(3) organization providing workshops, retreats and community connections. Our mission is to inspire personal growth, healing and transformation through spiritual enrichment and creative expression.
YOU MAKE A DIFFERENCE: By supporting the 2022 Art-a-Thon as a participating artist or artist sponsor you help us empower lives, one brush stroke at a time. Funds raised will benefit our weekly donation-based spiritual arts program, "Creative Spirit Gathering" as well as help to provide scholarship opportunities for those in financial need to attend our ticket based programs.
$25 – $50 provides a ticket to a single day expressive art workshop such as Vision Boarding, Bible Journaling & Process Painting
$50 – $100 provides registration to extended creative classes like Creative Writing, Contemplative Photography & SoulCollage(R)
$100 -$200 provides one ticket to a soul nurturing weekend retreat (virtual platform ticket)
$200 -$300 provides weekly access to all to a spiritual enrichment program that empowers creative reflection and personal transformation
SIGN-UP or DONATE TODAY! Click Here to View Fundraising Page & Artist Leaderboard. 
TESTIMONIALS
"Unity Arts Ministry has had an incredible impact on my life. I couldn't be more grateful that I have found a group where I can express myself artistically. The group is filled with amazing people whose positive energy makes a wonderful place for creativity. They are welcoming to people of all artistic backgrounds, and inspire us to use the arts to connect with one another." -Anne Walker, Kansas City, MO
"Creative Spirit Gatherings are a huge blessing! Through music, meditation, and art journaling, Rev. Jen guides us with tender loving care to express ourselves in our art journals. I am not an artist. Rev. Jen explains a variety of ways to art journal for all skill levels and abilities. We have explored the topics of self-nurturing, planting seeds, light, and gratitude, to name just a few. I find this time to be so beneficial to my health and well-being. During this time, I am able to set aside my worries and concerns and focus on the gifts and blessings being received. I discover that as I work in my art journal, my body relaxes and I am smiling. At the end of our two hours together, I feel uplifted and lighter." Terry Lummer, New Jersey
"I am so happy I found Unity Arts Ministry! A wonderful place to connect with other like minded people who are using creativity to grow, and live life fully in the world. Rev. Jeniffer Hutchins does a fabulous job of teaching, inspiring and setting a container for people to feel welcome, safe to participate & share their creative process and artwork." -Denise Bossarte, Houston, TX
---
CALL FOR ARTISTS:
View this document: ArtAThon2022ArtistDirections for details on how to join our leaderboard to sign-up as a participating artist. Visual Artists, Writers, Musicians and Performance Artists welcome. Ages 18+.
1. Raise Funds: Feel good knowing you are supporting Unity Arts Ministry's mission to inspire personal growth, healing and transformation through spiritual enrichment and creative expression.
2. Share Your Art: Participating artists will be highlighted on our fundraising event Leaderboard. Artists will have the opportunity to be featured in video segments during the event and to share their completed artwork via social media.
3. Get FREE stuff: All artists who collect a minimum of $50 towards the event will receive an Art-a-Thon T-shirt. Enter to win door prizes including the grand prize ticket to the 2022 Creative Renewal Retreat.
4. Have FUN!: Take part in a supportive, online, creative community for hours of art making fun. You set your own participation level join us for 4 hours, 8 hours or a full 12 hour program.
Please contact Rev. Jen Hutchins at jen@unityartsministry.org with any questions.